Wire-mesh reinforcement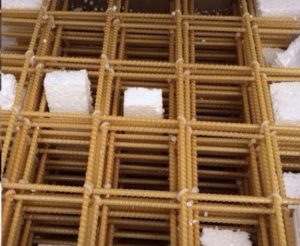 Wire-mesh reinforcement is one of the products of Armastek company. The structure of the material is formed by perpendicularly fastened rods which makes strong mesh aimed to application in conditions of heavy mechanical loads and chemically aggressive environments. So, the intended use of wire-mesh reinforcement is formation of strong carcass of construction, connection and fastening of elements of construction.
---
Wire-mesh reinforcement came into common use because of its special features. Using of composite materials in general gives a lot of advantages such as:
Reduce the crack formation
Non corrosive (even in the conditions of high temperatures and moisture)
Minimization of vibrations and loads
Lack of cold bridges
Energy efficiency and others
So, wire-mesh is implemented in
Construction of monolithic and precast concrete structures
Brickworks and decorative facing (with marble and stone)
Installation of concrete floor
Road construction
Agricultural objects, garden and backyard arrangement
Wire-mesh reinforcement is used in different sizes for solution of these and many other tasks.
Have our own production facility and producing the products in accordance to patented technology tested by time we are offering a wide range of composite products. Here you can buy wire-mesh reinforcement of high quality and affordable price.
---
Why people choose Armastek
Patented technology

Dense spiraling with angle more than 70 degrees which provides better adhesion with concrete.

More than 10 years on the market
ALWAYS IN TOUCH
Our managers will help to make the right choice and answer your questions
+7 (342) 200-85-99