Basalt-plastic reinforcement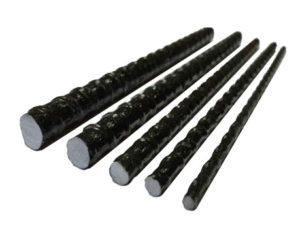 Production of basalt-plastic reinforcement is one kind of activity of Armastek company. This type of armoring rods is considered as practical and sustainable element of modern constructions which can serve for different aims of building.
Basalt-plastic reinforcement is implemented both in industrial and private construction for building and repairing or reconstruction. This material is used:
For lightweight and heavy aggregate concrete (foundations, slabs, beams)
As the part of construction exposed to drain current
For construction constantly exposed to aggressive chemical and natural factors (arranging mines, roadway covering, runways, water breakers, embankments, bridges and others)
Specialties and advantages
Basalt-plastic reinforcement is made of basalt fibers bind with polymer. It's a well-known fact that basalt is one the strongest materials on the Earth. Due to this feature of the primary component and due to the special production process basalt-plastic reinforcement has better properties than metal reinforcement. Basalt-plastic reinforcement is now considered as the most resource efficient and energy-efficient material which is an ideal alternative to metal reinforcement.
Basalt-plastic reinforcement has in some cases similar and some cases better characteristics than metal reinforcement which helps to solve following tasks:
Increasing thermal efficiency
Maximizing security of connections in the structure
Durability of constructions (due to resistance to corrosion and aggressive environment)
Easing the adjusting process (connection and fixation without welding)
Giving the dielectric and diamagnetic features to construction
Moreover, basalt-plastic reinforcement is different by the next properties:
Strength (is compatible with carbon fiber)
Lightness (due to low density it is much lighter than steel reinforcement)
Affordability
This is only the part of specialties and advantages of the material to get more information on properties or calculations you can call us or use online form to connect.
---
Why people choose Armastek
Patented technology

Dense spiraling with angle more than 70 degrees which provides better adhesion with concrete.

More than 10 years on the market
ALWAYS IN TOUCH
Our managers will help to make the right choice and answer your questions
+7 (342) 200-85-99