Glassfiber reinforcement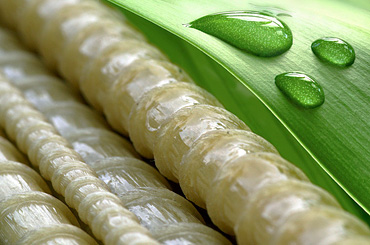 Composite glassfiber reinforcement is one of the most popular and modern building material spread all over the world.
This popularity is explained by the fact that composite reinforcement has some advantages in comparison with steel reinforcement. Everybody knows that steel reinforcement is very heavy and it takes a lot of energy and time to install it. Moreover, it exposed to corrosion which could cause earlier destruction of concrete construction.
Composite reinforcement is light weight and noncorrosive that means that using of it is profitable.
---
Why people choose Armastek
Patented technology

Dense spiraling with angle more than 70 degrees which provides better adhesion with concrete.

More than 10 years on the market
Strong, light and noncorrosive composite reinforcement has already gained popularity among the professional builders. However, many specialists usually working with traditional steel reinforcement are doubting the possibility of replacing steel reinforcement with composite reinforcement.
These worries are caused by the lack of information about properties of composite materials. To fill this gap in we offer to look through comparison of metal and composite reinforcement according to the basic parameters. Feedback on composite materials proves that buying it will help you to save your budget as under the conditions of crisis so at any other time.
---
Characteristics of steel and composite reinforcement compared
Characteristics

Glassfiber reinforcement

Metal reinforcement A-III (A400C)

Material
Glass roving bind by polymer on the base of epoxy resin
Steel
Maximum tensile stress, not less than, Mpa
1 000
390
Young's Modulus, Mpa
50 000
200 000
Unit extension, %
2,2
25
Heat conductance
0,35
46
Line expansion coefficient
from 9 to 12
from 13 to 15
Specific Gravity
1,9
7,8
Corrosion resiastance
noncorrosive
corrosive
Thermal conductivity
nonconductive
conductive
Electric conductivity
dielectric
electrically conductive
Length
On the customer's request (in rods or coils)
Rods with length from 6 to 12 meters
Durability
Expected durability - 80 years
According to building regulation
Terms of substitution of steel reinforcement with composte reinforcement according to its properties
4 mm
6 mm
8 mm
10 mm
12 mm
8 АIII
10 AIII
12 АIII
14 АIII
16 АIII
---
Properties and application of composite reinforcement
Composite reinforcement is the product made of glass fibers bind with thermosetting resins. Its main specialty is lightness mass index calculated using the unit of volume is only 2 g/mm3. Working with this material is much easier and more profitable than working with metal reinforcement. There are less spendings while transporting and armoring.

Composite reinforcement is used while building civil, public and industrial constructions as reinforcing frame of foundations, floors and beams.
In road repairing works composite reinforcement is used for arranging of fillings, traffic-bearing surface in bridge construction and in highway barriers. It is resistant to all types of deicing agents and might be used in all regions.
ALWAYS IN TOUCH
Our managers will help to make the right choice and answer your questions
+7 (342) 200-85-99